I'm Jax. I'm 18, I'm a college student, I claim no home since I'm going to move more times than I care to over the next several years. I got introduced to knitting three months ago, and now I'm ready for a blog. :)
My first blog-worthy project: the
Vinnland socks from Anti-Craft
.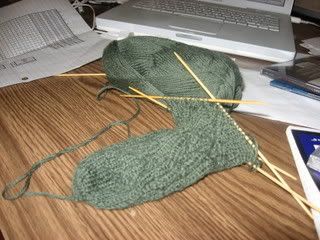 I started this sock yesterday. Like, went to the yarn store, bought too much green Sisu (also known as the "God Yarn"- it's fairly standard fingering-weight wool/acrylic, but it's special 'cuz it's made of 80% GOD. (god is the Norwegian word for wool, apparently.)
My first attempt to make something of this yarn was a spectacular failure. I mean, look at it. It's unattractive and unremarkable.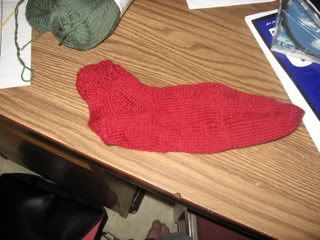 I was thinking about another fingering-weight yarn- a wool/silk/acrylic blend- but at almost $10 for a ball that the instructions said would be enough for one of two socks (I think they lied. Yay having a beginning of a stash?), I figured that I'd try the God Yarn once again, since it was more on the order of $6. Grumbling about how I just had to be too impatient and transient to order this project's suggested KnitPicks yarn for $4, I paid for my yarn and needles.
Casting on took ages. However, the sock itself progresses apace. It's a pleasure and an addiction to knit. :) I just hope I can manage the short-row heel. I substituted a different toe style for short-row, but I don't think that I want to muck about with a flapped heel and ruin all the pretty pattern work I've done so far.