Today consists of a greeting from sisterpants. She says,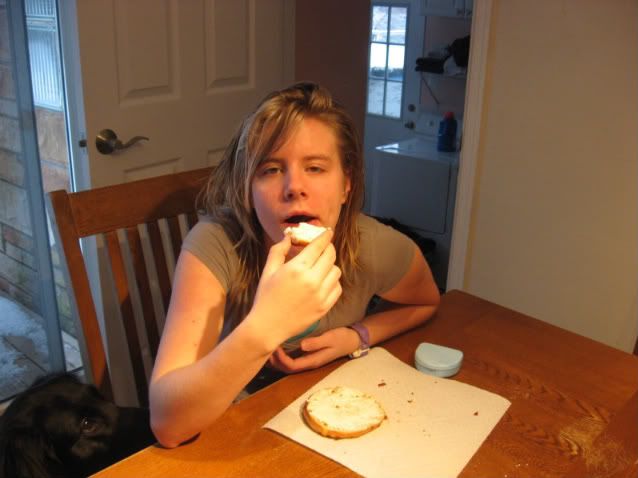 "WTF JAX WHY ARE YOU TAKING A PICTURE OF ME EATING MY BAGEL D: D: D:"
I spent today in Detroit, getting a neurological evaluation done. Surprise! I have migraines! Not like I didn't know this, but it was reassuring getting everything scarier ruled out by the awesome Dr. Mitsias, and I get a proper prescription for my migraines now! Three cheers for that- I'm going to go on Relpax, which is in the same family as Zomig and Imitrex. Zomig was the medicine of doom that wrecked my shoulders, Imitrex is the one you've probably heard of. Relpax falls between them in strength and speed so hopefully it will be a happy medium.
I got to see my little bro play basketball, and hung out with my good friend Megan. We stalked Michael's and Jo Ann's looking for sock yarns (verdict: Heart and Sole patterns have hit SE Michigan, Michael's also carries Kroy Sock). We also went to One World Market, a Japanese grocery store in Novi. I got dashi... tea bags, and rice crackers, and INARI~~~~~ I love me some inari. Also socks at Hot Topic. Don't laugh, they're warm, comfy, and knee-high, so I can wear them fencing. You'll eventually get pictures of me kicking Rob's ass while wearing knee-high socks with skulls on.
Bayerische proceeds. I also spent a good part of my day thinking about why you can't map a circle to a straight line in a linear vector space. I'll talk a little about that problem when I get back to my whiteboard :)